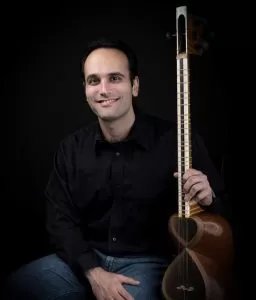 Reza Manbachi
Tar, Setar, Deltar
Reza Manbachi is a Persian-Canadian musician and composer who has dedicated his talent to the art of Persian traditional music for over three decades. He is a seasoned performer of Persian Tar and Setar, Iranian long-necked lutes, with a deep understanding of Persian traditional repertoires and improvisation skills.
Reza has studied under major proponents of Persian traditional music, such as Dariush Pirniakan and Hamid Motebbassem. He has mastered the traditional repertoires of Agha Hosseingholi, Mirza Abdollah, and Ali Akbar Shahnazi.
After migrating to Canada, Reza gained extensive experience collaborating with musicians from different cultures. He has been a multiple grant winner from the Canada Council for the Arts, Ontario and Toronto Art Councils.
As a composer, bandleader, and musician, Reza has performed with seasoned artists such as world-renowned singer maestro Shahram Nazeri, as well as maestros Hossein Behroozinia, Majid Derakhshani, Hamid Motebassem, Trichy Sankaran, Javad Bathaei, Nasser Masoudi, and others.