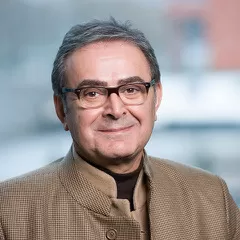 Prof Touraj Atabaki
Touraj Atabaki is Senior Research Fellow at the International Institute of Social History and Professor Emeritus of Social History of the Middle East and Central Asia at Leiden
University. Atabaki studied theoretical physics and later history at the University of London and Utrecht University. Following positions at Utrecht University and the University of Amsterdam, he joined Leiden University where he held the Chair of Social History of the Middle East and Central Asia. The latest project coordinated by Atabaki was the hundred years' social history of labour in the Iranian oil industry, funded by the Netherlands Organisation for Scientific Research.Atabaki's research encompasses historiography, social history of labour and subaltern studies in twentieth century Iran, the Ottoman Empire and Turkey as well as the Caucasus andCentral Asia. His latest books are Social History of the Iranian Oil Industry (CambridgeUniversity Press, Forthcoming), Zhertvy vremeni: zhizn'i sud'ba iranskikh politicheskikh dei͡ateleĭ i trudovykh migrantov v mezhvoennyĭ – with Lana Ravandi-Fadai (Moscow, 2020, Labour and Political Activists during the Soviet Great Purge).
Abstract
Within Iran's political culture, a prevalent notion persists that highlights a dichotomy between intellectuals and statesmen. According to this notion, the intellectual is always on power and not with power and hold authority without aligning themselves with it, while statesmen prioritize their association with power and prioritize political expediency. Consequently, the pursuit of expediency often compromises the statesman's capacity for independent thought and critical insight. This duality is further magnified when examining the experiences of Iranian statesmen who have been involved in political or economic ventures overseen by non-Iranian entities. Their careers are often subjected to an essentialist interpretation, rendering them as foreign agents whose actions and behaviours fail to demonstrate allegiance to their homeland, Iran. By delving into the intellectual and political history of Iran, this essay seeks to scrutinize the validity of this notion by posing a fundamental question: Can a more nuanced understanding emerge from examining the intersection of professional endeavours and national identity among Iranian statesmen, particularly those who have operated within non-Iranian establishments? The case study of this essay revolves around the career of Mustafa Fateh, a prominent figure in Iran's oil industry and a high-ranking executive at the Anglo-Iranian Oil Company.