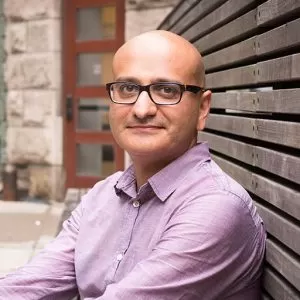 Mohammad Tabesh
Multidisciplinary Artist
Mohammad Tabesh (he/him) is a Toronto-based multidisciplinary artist whose work delves into the complexities of the human experience, resistance, and social change. Across various media, including writing, printmaking, multimedia, and sculpture, Tabesh strives to convey profoundly human and universal stories.
Tabesh's work has been recognized with several Canada Council for the Arts and Access Copyright Foundation grants. He earned his BFA from OCAD University and was honoured as the recipient of the university's Sculpture and Installation Medal in 2020. Currently, he is an Artist-in-Residence at Harbourfront Centre's ceramic studio.
As an artist, Tabesh is committed to using his work as a vehicle for social change and encourages viewers to engage with his pieces personally and creatively. With a unique ability to blend the personal and political, Tabesh's work offers a powerful commentary on the human condition.
محمد تابش کودکی خود را در اوج انقلاب اسلامی سال ١٣۵٧ و جنگ ھشت ساله ایران و عراق، در تھران گذرانده است. او بازداشت گسترده فعالان سیاسی و اعدامھای بدون دادگاهھای عادلانه را در حافظھ خود دارد؛ سرکوب و سانسوری کھ از سوی رژیم اسلامی بھ تمام شئون زندگی روزمره مردم اعمال میشد و گاه بخش سنتی جامعھ نیز ھمسوی آن بود.
تابش در چیدمان »اشیای غریب«، بھ حافظھ خود نقب زده است و از طریق مجموعھای از تندیسھای کوزهمانن ِد سفالین کھ در میان متونی احاطھ شدهاند، بھ این موضوع واکنش نشان میدھد. با وجود اینکھ شکل بدنگونھ ھر سفالینھ یگانھ است، ھمھ آنھا ویژگی مشترکی دارند: دھانی باز در حال فریاد. این شش سفالینھ انداموار با دھانھای باز خود، شش دھھ ستم را – از دھھ ١٣۵٠ تا کنون – بھ نمایش میگذارند. ھر کدام از آنھا در فضایی محبوس میان فھرستی قرار گرفتھاند از نامھای فعالان سیاسی – از ھمھ طیفھای جامعھ – کھ در دادگاهھای نمایشی یا بدون دادگاه جان خود را از دست دادهاند.
اعتراضات اخیر در ایران – با محوری ِت زنان – پس از قتل مھسا امینی ، لزوم بازگوی ِی روایت بیعدالتی، خشونت و ھمھ آنچھ بر تن و جان ایرانیان رفتھ است را بار دیگر و بیش از پیش مطرح کرده است؛ بازیاب ِی حافظھ مشترکی کھ روایت و ثب ِت آن جدا ِل با فراموشی است.