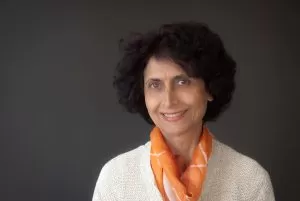 Mehrnaz Saeed Vafa
Guest Speaker, Scholar, Filmmaker
Mehrnaz Saeed-Vafa is a filmmaker, a teacher at the Department of Cinema Arts and Science, Columbia College, Chicago, and an Artistic Consultant of the Iranian Film Festival in Gane Siskle, Film Center, Chicago since 1989.
She also published a few books such as Cinema of Abbas Kiarostami with co-writing of Janhatan Rosenbaum, Cinema of Sohrab Shahid-Saless, Cinema of Ibrahim Golestan and Women and Cinema in Iran.
مهرناز سعید وفا
فیلمساز و مدرس سینما در کالج کلمبیا و مشاور هنری فستیوال فیلم های ایرانی کانون فیلم جن سیسکل در شیکاگو می باشد.
مهرناز علاوه بر نقد فیلم ،کتاب هایی در زمینه سینما منتشر کرده که یکی از آنها کتابی در باره عباس کیارستمی با همکاری جاناتان رزنبام منتقد سینما میباشد. سینمای سهراب شهید ثالث ،سینمای ابراهیم گلستان و کتاب زنان و سینما در ایران از دیگر آثار او میباشند.