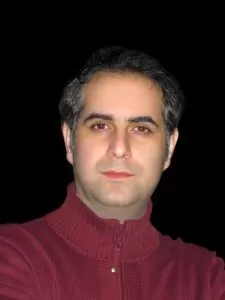 Mehdi Farahani
Scholar, Musician, Author
Mehdi Farahani is a multidisciplinary and new media artist, musician, researcher, and lecturer who works at the intersection of art and technology.
He holds a Master's degree in Digital Futures Design from the University of OCAD, a Postgraduate degree in Interactive Media Design from George Brown College, and a Bachelor's degree in Graphic Design.
In addition to his artistic endeavors, Mehdi engages in research across a broad spectrum of topics, encompassing both the history of art and future explorations in the field. He has published considerable scholarly works, including articles and books about Persian art and music.
Over the past two decades, he has demonstrated active involvement in various aspects of the Persian traditional music domain. Through a series of concert performances, academic talks, and workshops conducted at esteemed Canadian academic institutions, he has played a pivotal role in revitalizing Persian traditional music. Notably, his profound insights into the historical foundations of Persian art have significantly contributed to the scholarly understanding of the epistemology that shapes the artistic landscape of Persia.