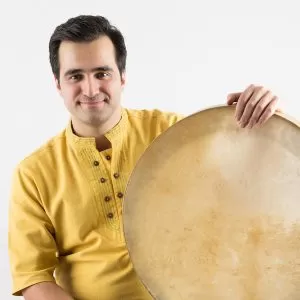 Hooman Tootoonchian
Percussive Instruments
Hooman's musical journey began during his childhood when he discovered his passion for music through the enchanting melodies of the piano. As a teenager, his curiosity led him to explore a variety of instruments, immersing himself in both classical and Persian music.
In 2009, Hooman embarked on a new endeavor by delving into the realm of music education, particularly focusing on teaching children. He eagerly embraced the Orff method, mastering its techniques, and began sharing the joy of music with young learners.
Alongside his musical pursuits, Hooman also holds a bachelor's degree in metallurgical engineering from Tehran University, showcasing his diverse academic background.
Driven by an unwavering passion for music and teaching, Hooman co- founded the esteemed online music academy, Rhythmitica, in Canada in 2015, together with his wife. Serving as the dedicated CEO, he continues to shape the academy's vision and mission.
Hooman's innovative spirit extends beyond boundaries as he explores unique ideas in various domains of music and education. He devotes his serious attention to Persian, baroque, and early music, constantly enriching his understanding and expertise.
Through Rhythmitica, his profound goal is to utilize the universal language of music, fostering a harmonious bridge that unites people from diverse cultures and contributes to the creation of a more beautiful and peaceful world.