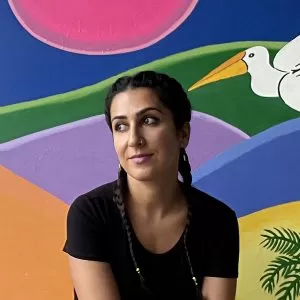 Ghazaleh Rastgar
Visual Artist
Ghazaleh Rastgar is an award winning multidisciplinary artist from Shiraz, Iran, now based in Toronto, Canada. Graduating from OCADU with a Bachelor of Design, she initially pursued a corporate career before rekindling her passion for visual arts.
Ghazaleh draws inspiration from nature, the human body, sensuality, and contemplating life as an Iranian woman. She invites viewers to examine the profound depths of love, sexuality, and identity through her vibrant and thought-provoking creations through illustrations, paintings, murals and short animations.
Ghazaleh's work has achieved international recognition and been exhibited globally. Notably, her animated GIFs were featured on CBC's Exhibitionists, and she redesigned the CBC Arts logo for October 2021.