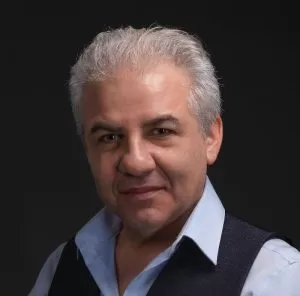 Aref Mohammadi
Guest Speaker, Film Critic, Documentarian
Aref Mohammadi is an acclaimed Journalist, documentary maker, film critic and TV producer within the Iranian communities outside Iran. He regularly provides editorials in Farsi print media.
Aref's formal education rages from literature to filmmaking to social work and reflect on his broad base of principles, interests, and expertise.
His popular interviews included many established cineastes was published in a book: Iranian Cinema-Yesterday, Today.
Aref has been successful in making a few short and feature length documentaries such as A Survivor from Magadan(2012 ) , Song of God (2018) and journey to Yazdegrd castle (2023)
عارف محمدی دانش آموخته ادبیات فارسی و سینما در ایران ومستندسازی در کانادا میباشد.
درسال 1999 به کانادا و شهر تورنتو مهاجرت کرد و از همان زمان با رسانه های متعدد فارسی زبان به عنوان روزنامه نگار، منتقد فیلم و برنامه ساز تلویزیونی همکاری کرد. اوعلاوه بر بررسی فیلمهای روز سینمای ایران و جهان، گفتگوهای زیادی با هنرمندان مطرح ایرانی داشته است. مجموعه گفتگوهای عارف محمدی تحت عنوان کتابی به نام سینمای ایران ، امروز، دیروز در سال ۲۰۱۲ منتشر شد.
عارف که در سال (2010 (در در رشته فوق لیسانس مستند سازی دیجیتال در دانشگاه رایرسون نیز پذیرفته شد بیشترین گرایش را به طور تخصصی روی سینمای ایران داشته است و در زمینه تاریخ سینمای ایران سخنرانیهای متعددی را در دانشگاههای کانادا داشته است.
دو مستند بلند او با نام های ؛بازمانده ای از ماگادان (۲۰۱۲) و آواز خدا (۲۰۱۸) در جشنواره ها و مراکز هنری بین المللی شرکت و جوایزی هم کسب کرده اند. سفر به قلعه یزدگرد (۲۰۲۳) جدیدترین مستند او می باشد.