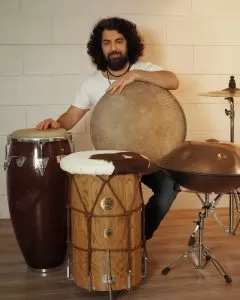 Ali Orangi
Daf, Percussive Instruments, Handpan
Ali Orangi is a musician and percussionist who specializes in playing the daf and handpan. He
has a diverse skill set and is proficient in a wide range of percussion instruments, including the
cajon, djembe, dayereh, and drum set. He started receiving instructions on playing daf when he
was 15 years old and continued for 3 consecutive years. Soon after, he focused on music theory
professionally at Jahad Daneshgahi while he was studying at the University of Tehran. Besides
learning traditional music, Ali was encouraged to learn spiritual music, Kurdish rhythms as well
as other styles of music such as jazz, pop, and rock in drumming.
Over the years, Ali has had the privilege of performing at numerous concerts, international
festivals, and events including the Toronto Jazz Festival, Tirgan (in 2015 and 2019), Taste of the
Danforth, and Nuit Blanche Festival.
Currently residing in Toronto, Ali runs a music school called "Toronto Zen Music" provides
lessons in piano, handpan, percussion, etc. In 2023, Ali is focused on working on his first music
album. This album will predominantly feature the handpan but will also incorporate other
instruments such as the cello, piano, electronic beats, and didgeridoo.